1 décembre 2012
6
01
/

12
/

décembre
/

2012
15:16
Bonjour à tous!
Athena est disponible sur agoraminiatures.com
AG05-Athéna, déesse de la guerre et de la sagesse.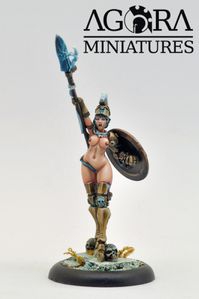 Athéna ferait surement la fierté de son père Zeus, s'il était encore vivant.
Elle fait cependant toujours la fierté de son oncle Hadès.
Sans elle le Dieu des Morts s'ennuierait ferme.
Elle fut la plus prompte à réagir quand Zeus fut assassiné. En tant que protectrice d'Athènes elle organisa les premières lignes de défense et fit face à la marée d'Exterminateurs envoyés par Hadès. Le flot des guerriers morts réduisit une bonne partie de la ville en cendres mais dut finalement se retirer après de lourdes pertes, la déesse s'étant battue sur tous les fronts avec l'énergie du désespoir.
Une fois le chaos initial passé elle organisa la vie militaire et politique d'Athènes, désormais baptisée Nouvelle-Athènes. Avec l'appui de Thémis et du Sénat elle fit voter les premières lois de protection des Cités-États. Elle eut la sagesse de rassembler les humains dans les cités encore intactes avant de les faire décoller vers la stratosphère pour les protéger. Ces immenses vaisseaux-villes étaient désormais hors de portée des forces d'Hadès.
Les Champs Phlégréens n'étaient plus les seules portes vers les enfers : les morts pouvaient jaillir à loisir des plaies ouvertes laissées par l'extraction des Cités. La terre devint un vaste désert livré aux forces ennemies, mais la survie de l'humanité était à ce prix.
La mort du premier des dieux eut un impact considérable sur la vie des hommes, des héros légendaires et des dieux. Tout l'équilibre divin fut remis en cause, des allégeances nouvelles renforcèrent les deux camps et la guerre qui débuta alors fait encore rage aujourd'hui.
L'équilibre entre Morts et Vivants est toujours précaire, mais Athéna est soutenue dans son combat et l'objet de sa quête est clair : renvoyer les forces d'Hadès d'où elles viennent, au delà de l'Achéron.
A leur place.
Hello evryone!
Athena is available on agoraminitures.com
AG05-Athena, goddess of War and Wisdom.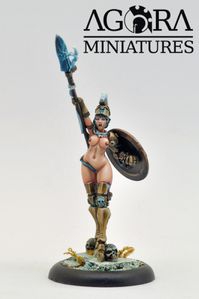 Athena would certainly be the pride of her father Zeus, if he was still alive.
She still makes her uncle Hades proud, however.
Without her, the Lord of the Dead would be bored to death.

She was the quickest to react when Zeus was murdered. As the protector of Athens she organized the first defensive lines and faced the tide of Exterminators sent by Hades. The stream of dead warriors burned a good part of the city to ashes but finally had to withdraw after heavy losses. The goddess had fought on all fronts with the energy of despair, and won.
After the initial chaos, she re-organized the military life and politics of Athens, from now on called New-Athens. With the support of Themis and the Senate she passed the first protective laws of the City-States. She was wise enough to gather the surviving humans in the remaining cities, and had them take off towards the stratosphere, to safety. In these gigantic City-ships, humanity was out of reach of Hades.

The Phlegrean Fields were no longer the only way to Hell: the Dead could spring at leisure from the open wounds left by the extraction of the Cities. The earth became a vast desert at the hands of the enemy: a price to pay for the survival of humanity.
The death of the First God had a considerable impact on the life of the people, heroes and gods. The divine balance was shaken, new allegiances strengthened both sides and the war that began then still rages today.

The balance between the Dead and the Living is still precarious, but Athena is supported in her fight and the object of her quest is clear: send the forces of Hades back where they come from, beyond the Acheron.
Where they belong.